Tackle it Tuesday
---
---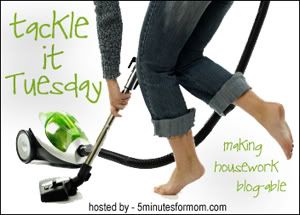 So I have been reading this blog the past couple of weeks and decided to jump on board with Tackle it Tuesday today! With Owen taking a longer than usual nap – I jumped up and grabbed my camera. That's part of the accountability of it all – actually posting what you did – fun =) Since Owen crawls around and puts everything in his mouth – I have to keep the floors clean, and I cannot cook dinner in a dirty kitchen – so I do my best to keep up with it as the day goes, but I have a hard time being motivated to do the other stuff. (btw – I haven't unloaded the dishwasher yet today)
My before shots:
We have this space on either side of the sink and above it that gathers and collects. Anything we don't know what to do with exactly, but want to have handy. . . stuff we want out of reach for our curious almost 3 yo. It just collects, and collects dust too (which I am very allergic to).

My after
shots: I actually tossed some stuff – why keep it if you don't love it or use it!
After this I thought about stopping but Owen was still sleeping. And then I saw it – my "pantry" shelf. My kitchen is just not big enough! I am content with what I have been given. =) It still is a full shelf in the kitchen, but at least stuff isn't falling off of it – at the moment! In all it took me about 35 minutes – not bad, especially since I have a little more peace walking into the kitchen.

Happy Tuesday!
---
---