Review: Unstoppable in Stilettos
---
---
First I have to say –
Thank You
– to everyone that has contributed to the raffle for
{ Modern } Relief
so far!  The outpouring  of support has been fantastic!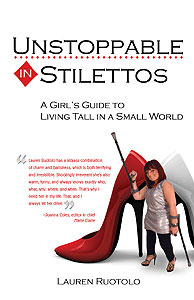 This is a fun book!  It's like a great pep talk that you can turn to when ever you need it.  Unstoppable in Stilettos: A Girl's Guide to Living Tall in a Small World
, by Lauren Ruotolo is a great read!
From the back cover:
Lauren was born with McCune-Albright syndrome, a mysterious and rare genetic disease that researchers say occurs in anywhere between 1 in 100,000 and 1 in 1 million people. Some people with the condition tend to go the wheelchair route, but that was never a road Lauren wanted to travel. Her preferred method of transportation, instead, includes stiletto heels. Lauren has avoided the label of 'disabled' through uniquely discovering who she really is, and now you, too, can learn the secrets to living life in a big way.
Lauren is just 4'2″ in her flats, but she can own any room, and has never taken "no" for an answer.  She shares her wisdom of hard lessons learned, and unique life experiences to teach you how to best mark your own path in life.  And have fun along the way!
I honestly, had a lot of fun reading this and think it 's a great read for anyone.  Her outlook is encouraging and decidedly upbeat, and who doesn't need a lift?   Unstoppable in Stilettos
is available at Amazon
or if you would like to win a copy, leave me a comment!
I'll select a winner next Monday,  November 29.
Blessings,
Amy
**Thanks to Lisa at TLC Booktours for setting this up!

---
---